Gold is a chemical element with the symbol Au (from the Latin word for gold, "aurum") and atomic number 79. It is a highly sought-after precious metal known for its lustrous yellow colour, rarity, and various uses throughout human history. Here are some key facts about gold:
Gold Physical Properties: Gold is a dense, soft, malleable, and ductile metal. It has a bright yellow colour and is an excellent conductor of electricity. Gold does not tarnish or corrode easily, which contributes to its durability.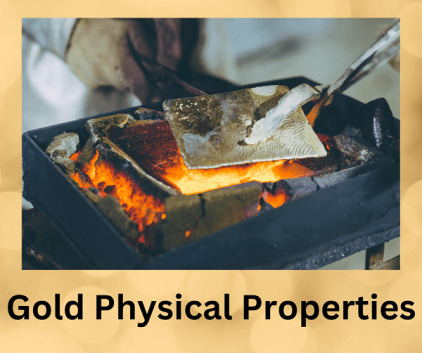 Density: The density of gold is 19.32 grams per cubic centimeter, making it one of the densest elements.
Softness: Gold is a very soft metal, with a hardness of 2.5 on the Mohs scale. This means it can be easily scratched or dented.
Malleability: Gold is highly malleable, meaning it can be easily hammered or pressed into thin sheets without breaking.
Ductility: Gold is also very ductile, meaning it can be stretched into thin wires without breaking.
Colour: Gold has a distinct bright yellow colour, which is why it is often referred to as "yellow gold."
Electrical Conductivity: Gold is an excellent conductor of electricity and is commonly used in electronic components.
Thermal Conductivity: Gold also has high thermal conductivity, meaning it can efficiently transfer heat.
Corrosion Resistance: Gold is highly resistant to tarnishing, corrosion, and oxidation. It does not react with most acids or other chemicals.
Melting and Boiling Point: Gold has a relatively high melting point of 1,064 degrees Celsius (1,947 degrees Fahrenheit) and a boiling point of 2,700 degrees Celsius (4,892 degrees Fahrenheit).
Optical Properties: – Reflectivity: Gold has a very high reflectivity for both visible light and infrared radiation, making it useful in mirrors, coatings, and solar panels.
Colouration: When used in nanoparticles or thin films, gold can exhibit different colours depending on its size and shape, known as "nanoparticle plasmonics." This property is often used in applications such as electronics, sensing, and biomedical imaging.
Gold Occurrence: Gold is relatively rare in the Earth's crust but can be found in various geological formations. It is often extracted from gold-bearing ore deposits, such as quartz veins or alluvial deposits in rivers and streams.
MINI CAKE LUXURIOUS PRICE
Please enable JavaScript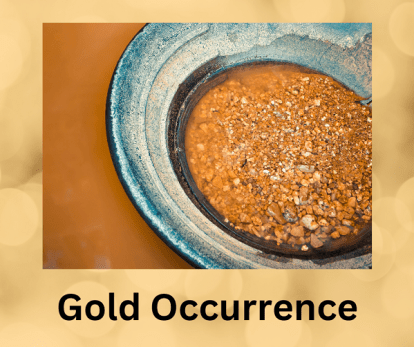 Gold occurs in a variety of geological settings around the world. Some of the most common occurrences include:
Quartz Veins: Gold is often associated with quartz veins, which form when heated mineral-rich fluids flow through fractures in the Earth's crust. These veins can be found in various host rocks such as granite, shale, or quartzite.
Placer Deposits: Placer deposits are formed by the erosion of gold-containing rocks, resulting in the accumulation of gold particles in rivers, streams, and beach sands. These deposits are often further concentrated by the action of water, gravity, and other forces.
Lode Deposits: Lode deposits are gold-bearing mineral deposits that are embedded in solid rock. They are typically found in association with other minerals such as pyrite, chalcopyrite, or quartz. These deposits are commonly mined through underground or open-pit mining methods.
Witwatersrand Basin: The Witwatersrand Basin in South Africa is one of the largest gold mining regions in the world. Gold occurs in conglomerate reefs within this basin, which formed billions of years ago in a shallow sea.
Plutonic and Volcanic Deposits: Gold can also be found in association with igneous rocks, such as granites and basalts. In these cases, gold is often found in veins or disseminated throughout the rock.
Metamorphic Deposits: Gold can be concentrated in metamorphic rocks formed by the recrystallization of pre-existing rocks under high pressure and temperature conditions. These deposits can be found in regions with extensive metamorphic activity.
It is important to note that the presence and distribution of gold deposits can vary significantly from one location to another. Exploration techniques, such as geophysical surveys and geochemical analysis, are used to identify and evaluate potential gold deposits.
Gold History: Gold has been used by humans for thousands of years. It has been used as currency, jewellery, and for various decorative and religious purposes. Ancient civilizations like the Egyptians, Greeks, and Romans valued gold highly.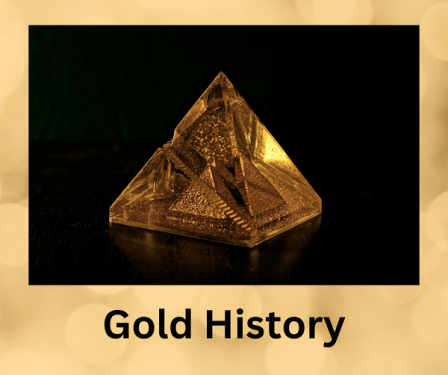 Gold has a rich and storied history that dates back thousands of years. The earliest evidence of gold being used by humans dates back to around 4000 BCE in ancient Mesopotamia, where gold was crafted into various jewellery and decorative items.
In ancient Egypt, gold held great significance. It was believed to be the flesh of the gods, particularly the sun god Ra, and was associated with immortality and eternal life. The pharaohs adorned themselves with gold, and it was buried with them in their tombs, such as the famous tomb of Tutankhamun. The Egyptians also used gold for religious rituals, as well as for architectural purposes, such as the iconic golden capstones on the pyramids.
The Greeks also greatly valued gold. It was considered the purest and most perfect metal, and they associated it with the sun god Apollo. Gold coins, known as staters, were minted and used as currency in ancient Greece. The Greeks also used gold for jewellery and in the making of beautiful decorative objects.
The Romans further popularized gold, using it extensively for currency and in elaborate jewellery designs. Like the Egyptians, they buried gold with their rulers and used it for religious ceremonies. Roman goldsmiths were highly skilled and produced intricate and artistic gold jewellery.
Gold has also played a significant role in various other civilizations. In ancient China, gold was used for decorative purposes, as well as in medicine. The ancient Incas and Aztecs used gold for religious and ceremonial purposes, crafting elaborate golden artifacts.
In more recent history, gold has continued to be highly valued. During the Middle Ages and the Renaissance, gold was used in religious art, such as in the creation of gold leaf for illuminated manuscripts and in the construction of elaborate altarpieces.
In the 19th century, gold rushes occurred in various parts of the world, such as California, Australia, and South Africa, leading to the discovery of extensive gold deposits. This led to increased use of gold in industries and as a medium of exchange.
Today, gold continues to hold immense value and is widely used for jewellery, investment purposes, and in various industries such as electronics and dentistry. It remains a symbol of wealth, luxury, and elegance, carrying with it a longstanding history of human fascination and desire.
Gold Currency: Gold has historically been used as a form of currency, and the gold standard was a system where the value of a country's currency was directly linked to a specific amount of gold. While the gold standard is no longer widely used, gold is still held in reserve by many central banks.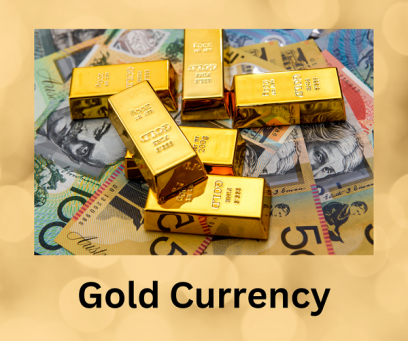 Gold has been used as a form of currency for thousands of years. It was widely used in ancient civilizations, such as Ancient Egypt and the Roman Empire. Gold coins were often used in trade and commerce as a medium of exchange.
During the 19th and early 20th centuries, many countries adopted the gold standard, where the value of their currency was directly linked to a specific amount of gold. Under the gold standard, the currency could be redeemed for gold at a fixed rate.
The gold standard provided stability to currency values and helped to promote global trade. However, it also had limitations, such as restrictive monetary policies and limited flexibility during times of economic crisis.
The gold standard was gradually abandoned by most countries during the 20th century, with the last major country, the United States, ending its adherence to the gold standard in 1971. Since then, currencies have been fiat, meaning their value is not directly linked to a physical commodity like gold.
While gold is no longer used as a primary form of currency, it still holds value and is considered a safe-haven asset. Many central banks and governments hold gold reserves as a means of diversification and stability. Gold can also be traded as a commodity in financial markets.
Gold Investment: Gold is considered a safe-haven investment. During times of economic uncertainty or inflation, investors often turn to gold as a store of value. It is also used for diversifying investment portfolios.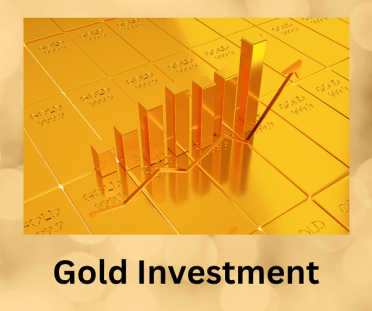 Gold investment refers to the act of buying and owning gold as a financial asset. There are several ways to invest in gold, including:
Physical gold: This involves buying gold bullion bars, coins, or jewellery. Physical gold can be stored at home or in a secure vault.
Gold ETFs: Exchange-traded funds (ETFs) are investment funds that are traded on stock exchanges. Gold ETFs hold physical gold, and investors can buy and sell shares of these funds through their brokerage accounts.
Gold mining stocks: Investing in gold mining companies allows investors to gain exposure to the potential profits and performance of the mining industry. These stocks can be bought and sold on stock exchanges.
Gold futures and options: Futures and options contracts allow investors to speculate on the price of gold without owning the physical metal. These derivatives are traded on commodities exchanges.
Gold is often considered a hedge against inflation and currency fluctuations. It tends to hold its value over time, making it a popular choice for long-term investors. However, gold prices can be volatile in the short term, and investing in gold does not guarantee profits. It's important to conduct thorough research and consider the risks before making any investment decisions.
Gold Industrial Use: Gold has various industrial applications. It is used in electronics, dentistry, and aerospace industries because of its excellent conductivity and resistance to corrosion.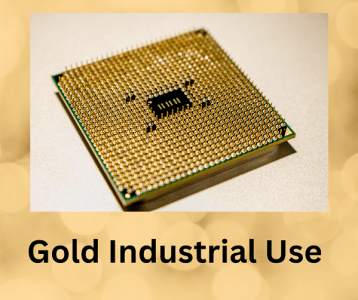 Gold has a range of industrial uses due to its unique properties. Some of the major industrial uses of gold include:
Electronics: Gold is a highly efficient conductor of electricity and does not corrode, making it valuable in the production of electronic components such as connectors, switches, and relay contacts. It is used extensively in the manufacture of cell phones, computers, tablets, televisions, and other electronic devices.
Dentistry: Gold has been used in dentistry for many years due to its biocompatibility, durability, and resistance to tarnish. It is commonly used for dental crowns, bridges, and inlays. Gold alloys are also used in dental fillings, as they can withstand the wear and tear of chewing.
Aerospace and Aviation: Gold's exceptional conductivity and resistance to corrosion make it valuable in the aerospace industry. It is used in various electronic components, wiring systems, and thermal management applications. Gold is also used as a coating material on spacecraft and satellites to protect them from the harsh conditions of space.
Medical Devices: Gold's excellent biocompatibility and corrosion resistance make it suitable for use in medical devices such as pacemakers, implants, and stents. It is also used in diagnostic equipment, including electrodes and certain imaging devices.
Reflective Coatings: Gold's high reflectivity of infrared and visible light makes it useful in applications such as high-quality mirrors, thermal shielding, and infra-red reflectors. These applications are important in lasers, scientific instruments, and high-end optics used in telescopes and spectrometers.
Chemical Industry: Gold is used as a catalyst in various chemical reactions. It is particularly important in the production of vinyl chloride, which is a key component in the production of PVC (polyvinyl chloride) plastics.
Glassmaking: In the production of specialized glass, gold is used to create red or purple colours. It is also used in the production of high-quality glassware, such as premium glass lenses for cameras and binoculars.
Electrically Conductive Adhesives: Gold is used in the production of electrically conductive adhesives, which are used to bond electrical components and provide a conductive pathway for electricity.
These are just a few examples of the industrial applications of gold. Its unique properties and versatility make it an essential element in many industrial sectors.
Gold Jewellery: The largest single use of gold is in jewellery production. Gold's lustrous appearance and rarity make it a highly prized material for making rings, necklaces, bracelets, and other adornments.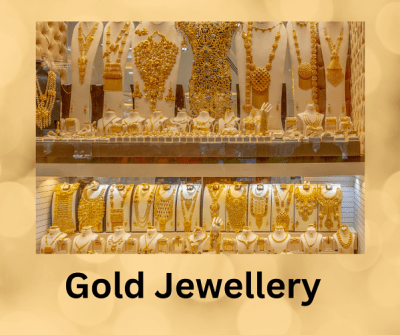 Gold jewellery has been a status symbol and a form of adornment for centuries. It is valued for its beauty, durability, and resistance to tarnish. Gold jewellery can be crafted in various styles, from intricate and detailed designs to simple and understated pieces.
There are different types of gold used in jewellery, including 24 karat gold, which is pure gold, and alloys like 18 karat (75% gold) or 14 karat (58.3% gold). The addition of other metals, such as copper or silver, in the alloy gives gold jewellery its strength and durability.
Gold jewellery can come in various forms, including:
Rings: Gold rings are popular for engagements, weddings, and everyday wear. They can feature gemstones or be plain bands.
Necklaces and pendants: Gold necklaces can be worn alone or adorned with pendants that can range from simple charms to intricate designs. Gold chains in various styles, such as rope, box, or link chains, are also common.
Bracelets and bangles: Gold bracelets can be delicate chains or solid cuffs, and bangles are rigid bracelets that are slipped over the wrist. These pieces can be worn individually or stacked for a layered look.
Earrings: Gold earrings can be studs, hoops, dangle earrings, or even ear cuffs. They may feature gemstones or be simple gold designs.
Brooches and pins: Gold brooches and pins are decorative accessories that can be worn on clothing, scarves, or hats. They come in a variety of shapes and designs.
Anklets: Gold anklets are worn around the ankle and are a popular accessory in many cultures.
Gold jewellery is often considered an investment as it retains its value over time. It can also be passed down through generations as heirlooms. However, it is essential to take proper care of gold jewellery to maintain its beauty and prevent damage.
Overall, gold jewellery remains a timeless and classic choice for individuals looking to express their personal style and add a touch of luxury to their outfits.
Gold Mining: Gold is typically extracted from ore using processes such as cyanide leaching or gravity concentration. It is then refined and processed into various forms, including bars, coins, and jewellery.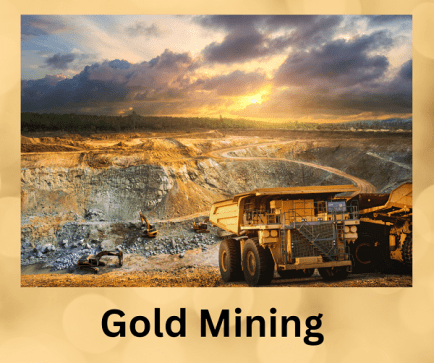 Gold mining is the process of extracting gold from the ground. It can be done through various methods, depending on the type of deposit and the geography of the area. Traditional methods include placer mining, where gold is extracted from streambeds or alluvial deposits using pans, sluice boxes, or dredges. Hard rock mining involves extracting gold from underground ore deposits, which requires drilling tunnels and using machinery to crush and extract the gold-bearing rock.
Once the gold-bearing ore is extracted, it is usually processed to remove impurities and separate the gold from other minerals. Common techniques include crushing the ore into smaller pieces, grinding it into a fine powder, and then using chemicals such as cyanide to dissolve the gold.
After the gold is dissolved, the solution is typically treated to recover the gold particles, which can be done through processes such as carbon adsorption or precipitation. The recovered gold is then further refined and processed to produce pure gold in various forms, such as gold bars, coins, or jewellery.
Gold mining can have significant environmental impacts, including deforestation, water pollution, and habitat destruction. To minimize these impacts, mining companies often implement environmental management plans and follow strict regulations and guidelines. Additionally, efforts are being made to develop more sustainable and responsible mining practices, such as using environmentally friendly technologies and promoting reclamation and rehabilitation of mining sites.
Gold Symbolism: Gold is often associated with wealth, success, and achievement. It is used symbolically in various cultures and religions to represent purity and divinity.
In many cultures and religions, gold symbolizes wealth, prosperity, and success. It is often associated with luxury, power, and abundance. Gold is considered precious and valuable, representing the highest level of achievement and prestige. In ancient times, it was also associated with the divine, representing purity and immortality.
Gold is frequently used in religious rituals and ceremonies. For example, in Christianity, it is used to symbolize divinity, purity, and holiness. Similarly, in Hinduism, gold is believed to be the metal of the gods and is extensively used in temple decorations and religious statues. In ancient Egyptian culture, gold was closely linked to the sun god Ra and was associated with the concept of eternal life.
Beyond its material value, gold also carries symbolic significance in various contexts. In literature and art, it can symbolize enlightenment, wisdom, or the attainment of spiritual or intellectual goals. In alchemy, gold represents the attainment of perfection and the refinement of the soul.
Overall, gold's symbolism revolves around themes of wealth, success, purity, divinity, and achievement. It has a longstanding cultural and religious significance, representing the highest ideals and aspirations of human beings.
Gold Environmental Impact: Gold mining can have significant environmental consequences, including deforestation, habitat destruction, and water pollution. Efforts are being made to develop more sustainable and responsible mining practices.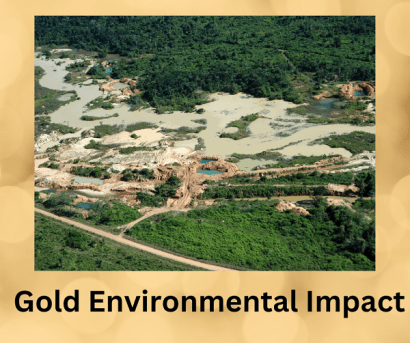 Gold mining has a range of negative environmental impacts, including:
Deforestation: Large areas of forests are cleared to make way for gold mining operations. This leads to habitat destruction, loss of biodiversity, and the release of carbon dioxide into the atmosphere.
Habitat destruction: Gold mining often involves digging deep into the earth, which can result in the destruction of natural habitats for plants and animals. This can lead to the displacement and extinction of species.
Water pollution: One of the major environmental concerns associated with gold mining is water pollution. The use of toxic chemicals, such as cyanide and mercury, in the extraction process can contaminate local water sources, causing harm to aquatic ecosystems and public health.
Soil erosion: Large-scale gold mining operations often involve the removal of soil and vegetation, leading to increased soil erosion. This can result in sedimentation of rivers and streams, impacting aquatic life and affecting water quality.
Air pollution: Gold mining releases pollutants into the air, including particulate matter, sulfur dioxide, and nitrogen dioxide. These pollutants contribute to air pollution, which can have negative health effects on nearby communities.
Efforts are being made to address these environmental impacts and develop more sustainable and responsible mining practices. This includes measures such as implementing stricter regulations, using more environmentally friendly extraction techniques, and promoting reclamation and restoration of mined areas. Additionally, there is increasing interest in promoting responsible sourcing of gold through certification programs that ensure environmentally and socially responsible mining practices.
Gold's value and cultural significance have made it a timeless and enduring element in human history. Its properties, both practical and symbolic, continue to make it a valuable asset in various aspects of society.