For the third day in a row (ahead of tomorrow's month- and quarter-end and the big PCE print), bonds 'rested' while stocks went wild (this time up… and then back down). Gold rallied as the dollar and bitcoin sold off.
Regional bank stocks slipped back towards the post-SVB lows again, back into the red for the week (not helped by Biden pushing for tighter regs for this cohort) ahead of tonight's Fed bailout data…
FRC was weak today and SCHW fell on an analyst downgrade joining PACW in the red for the week…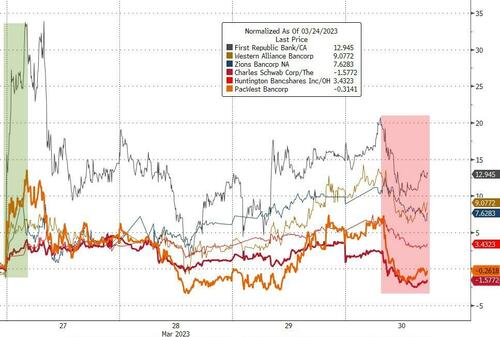 Source: Bloomberg
Minnesota Fed's Kashkari opened his mouth around 1330ET and hawkish tones gushed forth, pushing stocks lower.
Richmond Fed's Barkin was more dovish at around 1400ET, hinting at credit tightening (which may reduce needs for hikes) and that policy has lags (hinting at a pause).
Nasdaq outperformed… again… with Small Caps lagging (actually closing in the red on the day). The Dow and S&P rebounded (after Barkin) back into the green on the day…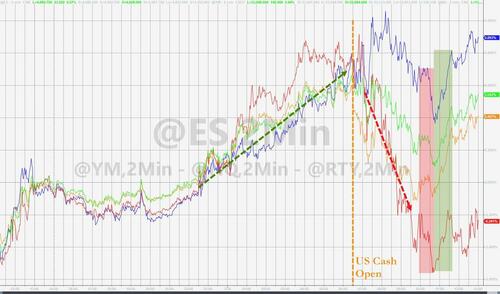 And as the quarter-end nears, it's clear what's driving the exuberance in long-duration stocks…
Nasdaq heads for one of its best quarters in a decade, up 17% in Q1. Second only to 2022's Q2 30% rally on the monumental monetary easing during Covid. Both times, the Fed's balance sheet expanded. Latest 10% leg up on the Nasdaq coincided with Fed's balance sheet adding $400bn pic.twitter.com/na34YcyIwr

— Valerie Tytel (@ValerieTytel) March 30, 2023
Jim Bianco nails the narrative… "everything must be fine because the S&p 500 is back to pre-SVB levels?!"
1/2

Narrative building that the banking crisis is now over because the S&P 500 has just about retraced all its losses.

Someone tell the bank stocks as they are unable to rally … pic.twitter.com/2oBMuuSrNF

— Jim Bianco biancoresearch.eth (@biancoresearch) March 30, 2023
'Most Shorted' Stocks squeezed higher at the open once again (to key resistance) but were sold back to unch from there…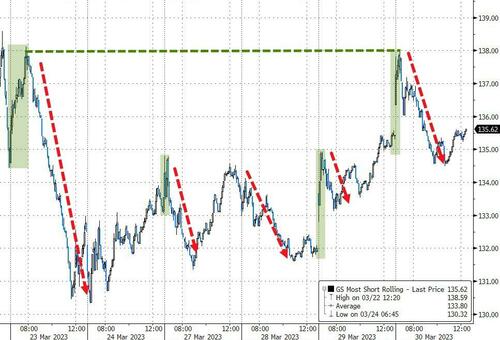 Source: Bloomberg
Options traders have priced in a lot of (relative) uncertainty for tomorrow (PCE), but then a jolt lower before rising again into next week's payrolls…
Source: Bloomberg
Treasury yields were modestly lower on the day with the belly outperforming (5Y -3bps) but all yields are still up notably on the week…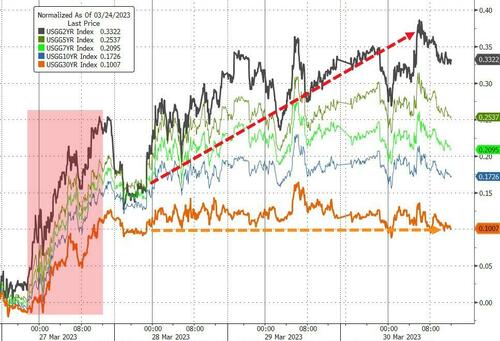 Source: Bloomberg
The 10Y yield continued to sleep after its explosion higher Friday thru Monday on the back of a suddenly heavy calendar of issuance…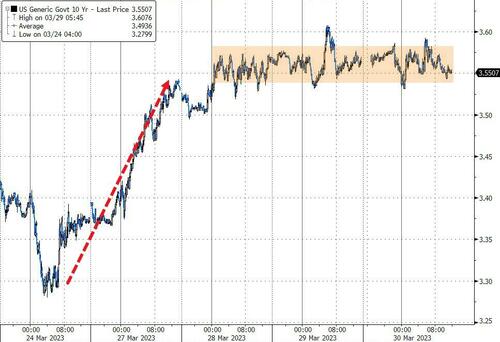 Source: Bloomberg
The yield curve (2s10s) flattened for the 4th straight day…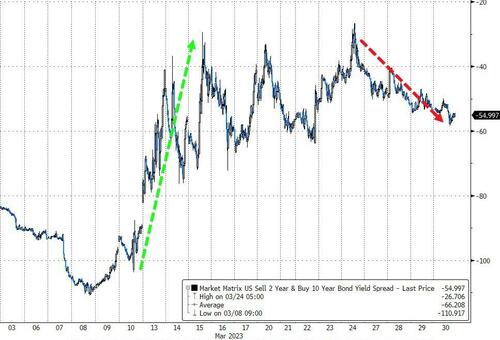 Source: Bloomberg
Rate-hike odds picked up hawkishly again today, with May now at 55% odds of 25bps hike…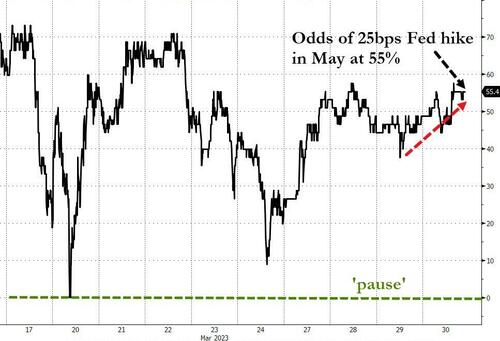 Source: Bloomberg
The dollar dumped again to its lowest close since Feb 3rd…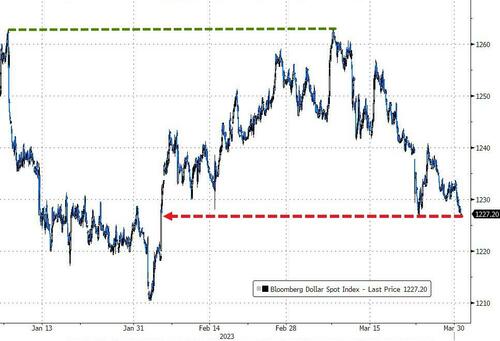 Source: Bloomberg
Bitcoin slipped back below $28,000 today (after spiking above $29 k overnight)..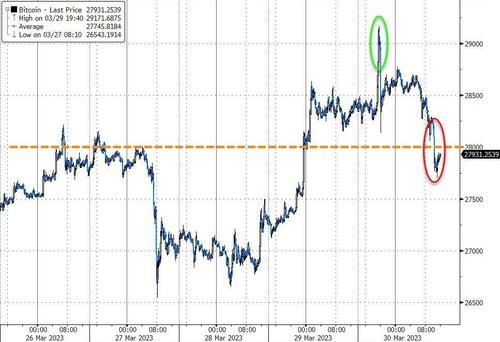 Source: Bloomberg
Gold (June futures) topped $2000 once again, as spot jumped back above $1980…
Source: Bloomberg
Oil prices extended their gains with WTI (May is front-month) back above $74 at two-week highs…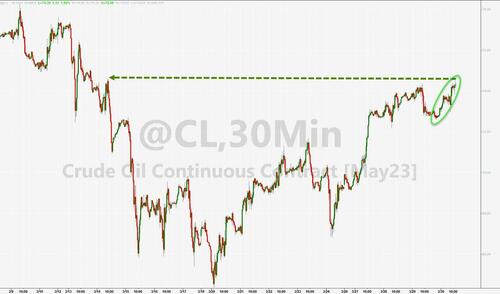 And finally, we note that US equities still screen as expensive vs. the alternatives despite the recent decline in Treasury yields…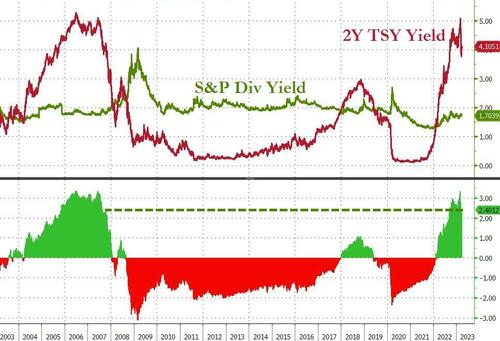 Source: Bloomberg
And the S&P 500 NTM P/E of 18x ranks in the 82nd percentile since 1980…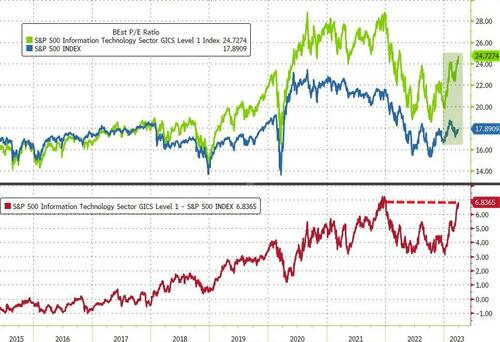 Source: Bloomberg
Do you feel lucky punk?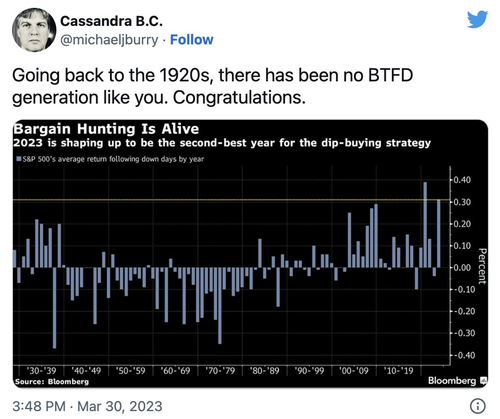 Given that, maybe you should!
Loading…