I started this year saying that to date, has been sold on strength and bought on weakness. And that the day strength is bought is the day we begin a much bigger rally.
A Few Gold Headlines:
Gold prices hit a record high in Japan

China steps up gold imports in 2022: Swiss gold imports at 4-year highs, Russia gold imports rise

Swiss pension fund increases exposure to gold
Every time we look at the price of gold, we take one step closer to realizing our prediction of the $3000-$3500 price target by 2024 and not ruling out a trip to $5000 by 2025.
Yes, gold is overbought at current levels. Yet, haven't you heard the expression, "Overbought can become more overbought?"
Of course, you have. However, not for some time. Probably not since the huge bull run of 2021-and of course, as it related to equities.
Dear readers, we were primarily commodity floor traders for two decades. We are presently bullish on the metals. We have been hammering this home since post-covid.
Now though, we see a new phase, a parabolic one.
Back in the day on the COMEX Exchange in the World Trade Center, pre-social media, pre-24-hour news loops, everyone was a trading genius at least once in their lives when in the late 1970s, floor traders bought dips in gold and .
Local traders did not concern themselves with calling corrections or tops. We were there to trade price and momentum.
After a very long wait, those days in the metals have returned.
With proper risk management ALWAYS, dip buying on corrections makes a lot of sense. Other than a very rich relative strength indicator, we see little in the way of a top at this point.
The landscape mimics (on steroids) the 1970s. With current macroeconomic and geopolitical conditions such as they are, 2023 is even more bullish for the metals than it was five decades ago.
And silver is not far behind.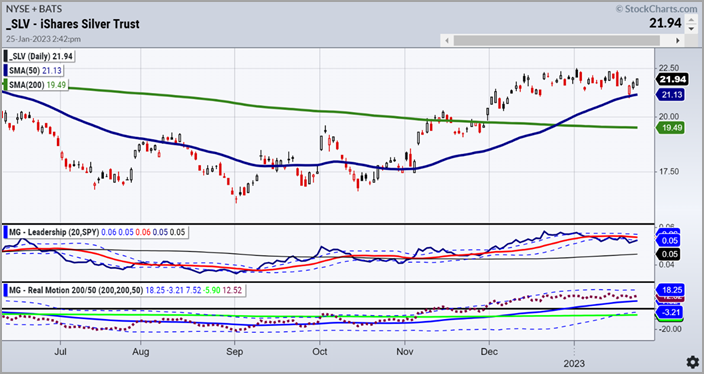 Retail investors have yet to load up on precious metals. Most are trained to buy equities and know little about commodities.
Right now, retail investors sway bullish on stocks. Once metals gain more of the retail trader's attention, can I get a P-A-R-A-B-O-L-I-C?
ETF Summary
S&P 500 (NYSE:): SPY has crossed the 200-DMA and is now slightly above it but is still in a very narrow price range below 50-DMA. Held pivotal support, and now what was resistance is support at the 200-DMA, and resistance is 405 overhead still.
iShares Russell 2000 ETF (NYSE:): Filled the gap and continued to hold the 200-DMA and overhead resistance at 189.
Dow Jones Industrial Average ETF Trust (NYSE:): The ETF is Back over the 50-DMA by a hair. Holding support at the 50-DMA at 336.07 and 339 is resistance.
Invesco QQQ Trust (NASDAQ:): Crossed the 50-DMA on Friday to close above. The first resistance level is at the 200-DMA and closes in the middle of the two DMAs.
S&P Regional Banking ETF (NYSE:): It is close to crossing 60.72 (50-DMA). The first level of support is 58, and the resistance is 50-DMA.
VanEck Semiconductor ETF (NASDAQ:): It is still holding critical support easily at the 50-WMA and 200-WMA. 233 support and 239 resistance.
iShares Transportation Average ETF (NYSE:): It is still holding 225 key support here and now holding the first level of support, holding 227, closing at 227.94 with resistance at 230.
iShares Biotechnology ETF (NASDAQ:): It is still the best sector with 132 key support still holding and holding the first level of support at 134 now with 137 resistance still (closed at 136.79).
S&P Retail ETF (NYSE:): It is holding pivotal support at 63. The first level of support at 66 resistance 70.