Today we have a Q&A with Scott Petsel, President Metallic Minerals Corporation
Mr. Petsel holds a geology degree from Fort Lewis College in Durango, Colorado which is very close to the company's La Plata silver-gold-copper project. He also holds an MBA from the University of Nevada in Las Vegas which he calls home. His 34-year career consists of experience in all facets of mineral exploration with particular focus on large scale precious and base metals systems. 
In addition to having extensive international experience, he has spent more than 20 years working in the Yukon, Alaska and British Columbia on significant advanced exploration and development stage projects including the Galore copper-gold-silver project (Teck/Newmont), Donlin gold project (NovaGold/Barrick), Upper Kobuk copper-zinc-silver-gold projects (Trilogy/South 32), and the Kensington gold mine (Coeur) amongst others.
Metallic Minerals Corp. (TSX-V: MMG / OTCQB: MMNGF) is a growth stage exploration company focused on the acquisition and development of high-grade silver and gold projects within underexplored North American districts proven to produce top-tier assets.
Metallic Minerals Corporation Question Time….
1. Let's start with talking about your commodities of focus. What are you exploring for and why does the company feel now is a good time for these particular metals?
Historically our focus has been silver, but we consider ourselves opportunistic when identifying properties or assets of value. Today, we could be considered a precious and base metal focused exploration and development company, but one could call us an "electric metal" company as our three primary metals of focus; silver, copper and gold are the best electrical conductors in nature. This in turn underscores why it's a good time to be focused on these metals; with electrification as a pillar of carbon reduction through the increase in electric vehicles, not to mention alternative energy production, these metals are increasingly important and necessary as we transition to the new green economy.
2. Much of your career has been spent on northern projects and Metallic has made it clear that North American jurisdictions are the focus. Walk us through why that is important and where specifically you are working.
Two things; Firstly, companies like ours benefit from having decades of prior experience in the regions with which we work. We understand the infrastructure, politics, communities, the regulatory environment, and the geologic settings that define opportunity in these regions and we know how to operate efficiently to deploy capital for the maximum shareholder benefit. Secondly, North America is one of the top-rated jurisdictions for mining and mineral exploration with a stable regulatory environment and policies towards mineral exploration and mining are clear and free of corruption. The specific districts we work in are well-known for their mineral endowment; both have long histories of significant, high-grade production yet remain underexplored in the modern era.
3. As you've noted, Metallic essentially has two flagship projects Let's dive into some more detail starting with your first project: Keno Silver.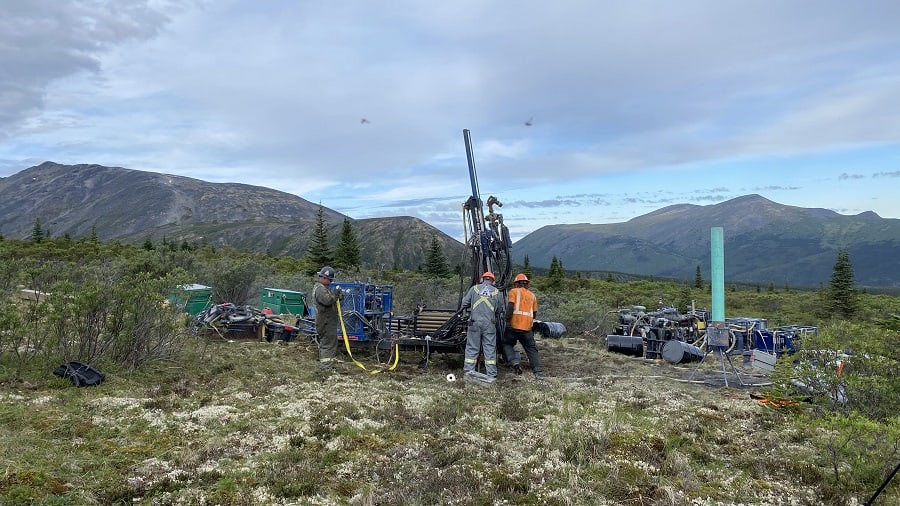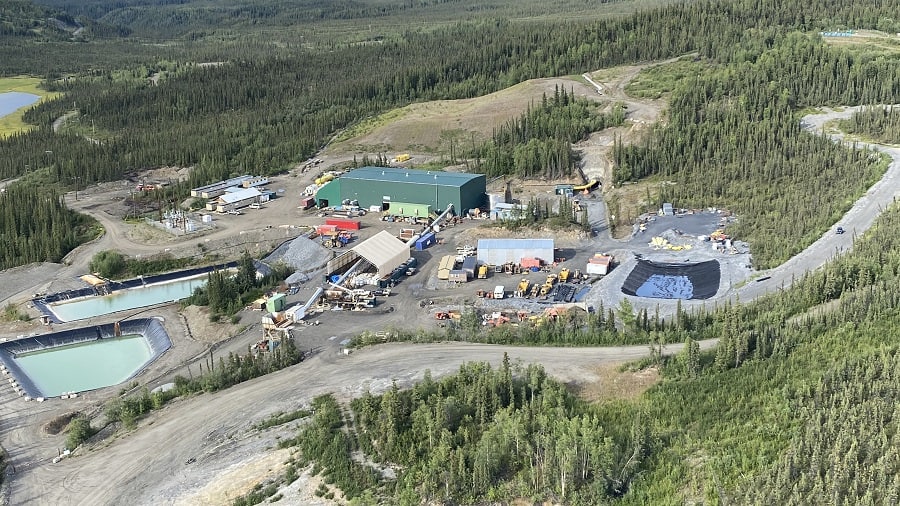 The Keno Silver Project is in the central part of the Yukon Territory in Canada. The Keno Silver District has produced over 200 million ounces of extraordinarily high-grade silver. It was essentially discovered at the tail end of the famous Klondike gold rush when prospectors and miners were exploring for new, untapped opportunities. Interestingly, more wealth was generated in the Keno district than the Klondike alluvial gold fields surrounding Dawson City.  
Our neighbour in the district has identified over 120 million ounces of silver equivalent resources and reserves and operates the regional mill from which concentrate is shipped via the deep seaport at Skagway, Alaska. Up until just recently, that neighbour was Alexco Resource Corp but, on July 5th it was announced that they were being acquired by Hecla Mining in a clear endorsement of the exceptional potential of the district.
Metallic Minerals has the second largest land holding in the Keno Hill district and has been actively advancing several target areas. The most advanced targets, the Caribou and Formo veins hold mineral inventories that may be converted to NI 43-101 compliant resources in the near term. 
New discoveries on the East side of the Keno district have shown the potential for bulk minable widths of up to 112 meters which is atypical in comparison to the ultra-high-grade narrow Ag-Pb-Zn veins traditionally mined in the district. This type of mineralization is more typically associated with massive projects like Newmont's Penasquito mine. We are excited to begin our 2022 drilling program this summer with an eye on defining, then growing, resources for the project over the next few years.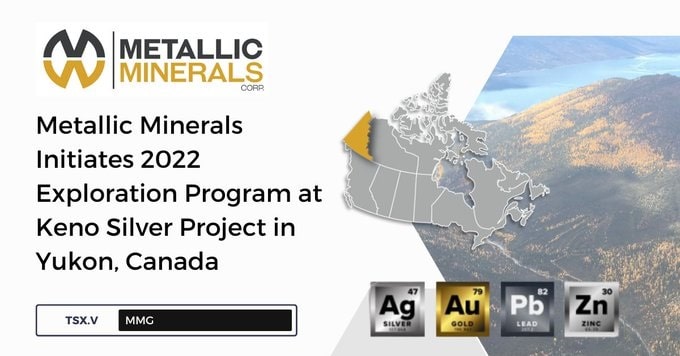 4. In 2019, you acquired the La Plata Silver-Gold-Copper Project, which was previously explored by the likes of Rio Tinto. Where are you now in terms of progress on that site?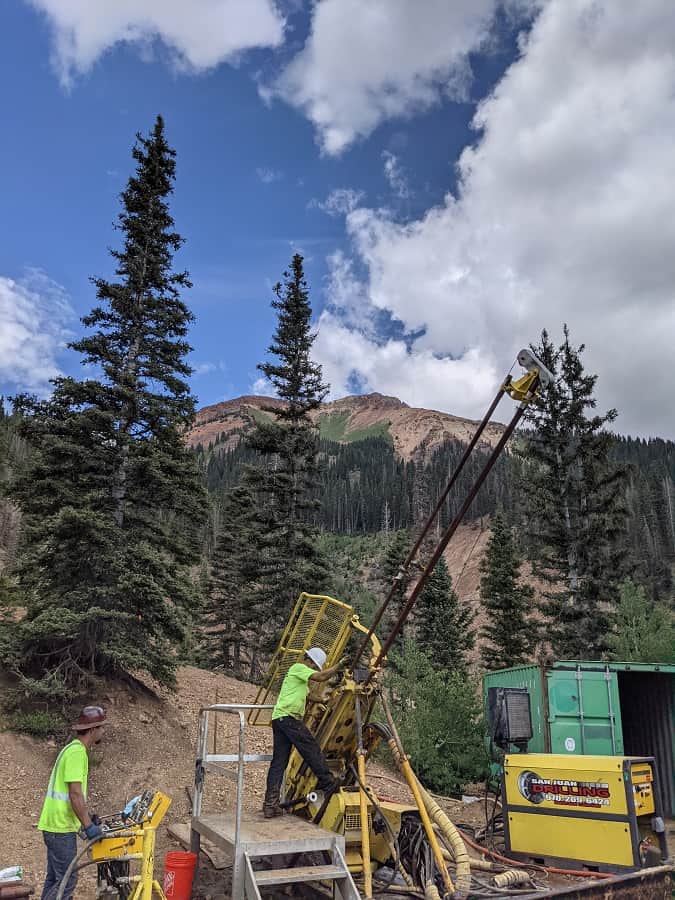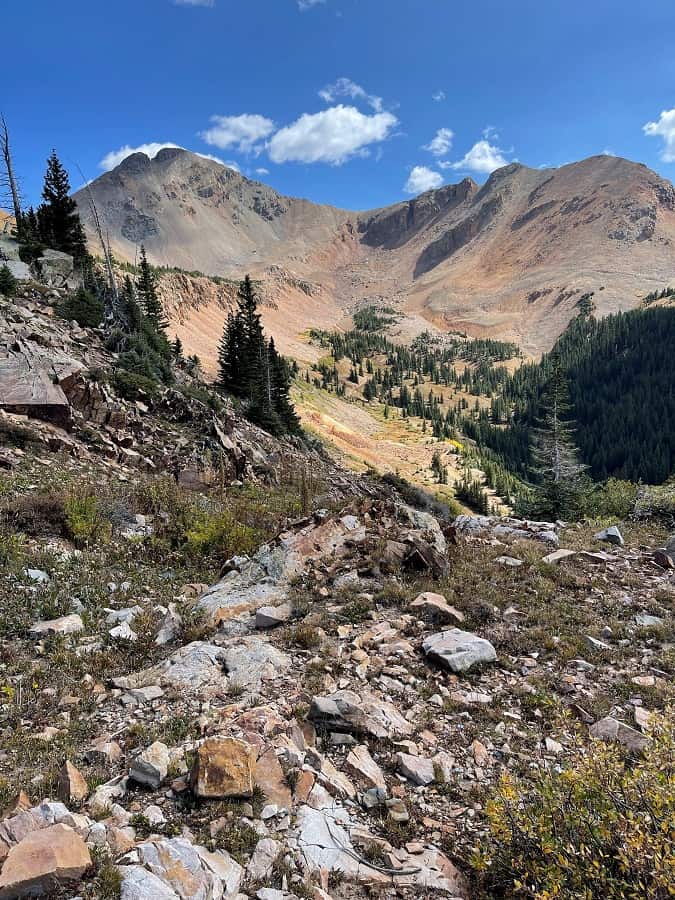 We acquired the La Plata project in 2019 and have quickly been able to review the historical work in the district and apply our own expertise via systematic exploration and modern technology. These efforts have allowed us to establish an inaugural resource for the project of 985 million pounds of copper equivalent including 15 million ounces of silver.
Keep in mind that, although the majors did great work, there has been a bare minimum of exploration on the project in the past 50 years. What had been a fractured land package for Rio and Phelps Dodge (now Freeport McMoran) has been consolidated and significantly expanded under Metallic Minerals. 
This allows us to pursue new target areas that were not previously available or recognized and, in fact, we have identified 16 new potential centers of copper mineralization that are untested. It will be very exciting for us to begin our 2022 field program focused on expanding our resource footprint but also testing these new targets for the first time.
"Plata" is Spanish for "Silver"
Of course, "Plata" is Spanish for "Silver" and it's noteworthy that it was indeed Spanish explorers who discovered the mineral wealth of the area in the 1700s. What they found was a series of very high-grade epithermal silver and gold veins which became the subject of early mining. It wasn't until much later that the central copper-gold-silver porphyry was discovered, and the Allard deposit initially defined. Our intention is to drill test additional anomalies adjacent to Allard which have the appearance of comparable size with the potential for higher grades, as well. Our experience in the Keno area obviously makes the prospect of high-grade veins a tantalizing target so we will be taking a look at that halo in the future as well.
5. Something completely unique to Metallic is your portfolio of alluvial gold royalties in the Klondike. Having watched almost all of the Yukon Gold shows I am intrigued to understand more about this aspect of your business and how Metallic Minerals is involved there?
It bears noting that, naturally, the TV show is dramatized for viewer interest, but Metallic Minerals is right in there with over 25 miles of alluvial claims and leases that are attached to the Indian River where the best gold production in the Klondike occurs and where Parker Schnabel on the show Gold Rush is mining. There has been over 20 million ounces of gold pulled from the Klondike since its discovery and operations there can be and are often large-scale, highly mechanized, sophisticated, and successful.
The Australia Creek claims, which we own there, are along a tributary of the Indian River and were not historically mined as they were held in reserve for power and water to support mining the other placer creeks in the area. We see the potential to get as many as 10-12 operators on these claims developing and mining alluvial gold deposits where we keep a 10-12% royalty on their gold production. We expect to have a couple of operators on the creek this year generating some limited royalty income for Metallic which is exciting and a great way to support our exploration activities on our other projects and offset corporate overhead costs.
6. The Klondike is legendary but not the only area with alluvial projects; would Metallic Group of Companies look at other alluvial sites with royalties if the opportunity presented itself?
The interesting thing about the Keno Silver District is that it is overlapping and interwoven with a high-grade alluvial, or placer gold district which is actively being mined. Metallic Minerals owns placer claims in the Keno District in addition to its Klondike portfolio and like our portfolio in the Klondike, we are actively recruiting operators to come in and develop and mine these alluvial claims under a royalty production agreement.
7. Metallic Minerals has had some recent success in the private placement financing to what do you attribute that success?
Well, its difficult to raise money in markets like the current market and I attribute our success of our recent $4,6 million CAD financing not only to the quality of our assets, but the track record and strength of our team.  Insightful investors will recognize Metallic Minerals is undervalued for the size of our resource at La Plata and the potential for resources in the high-grade Keno Silver district. 
If you are a believer in the new green economy you have to know that those electric metals need to come from somewhere and our projects will become very attractive to major mining companies as their search for those metals continue. Getting that infusion of capital at a very nice premium to the market price was incredibly timely as we were preparing for the 2022 field exploration season which has now been launched at both of our key, hard rock projects.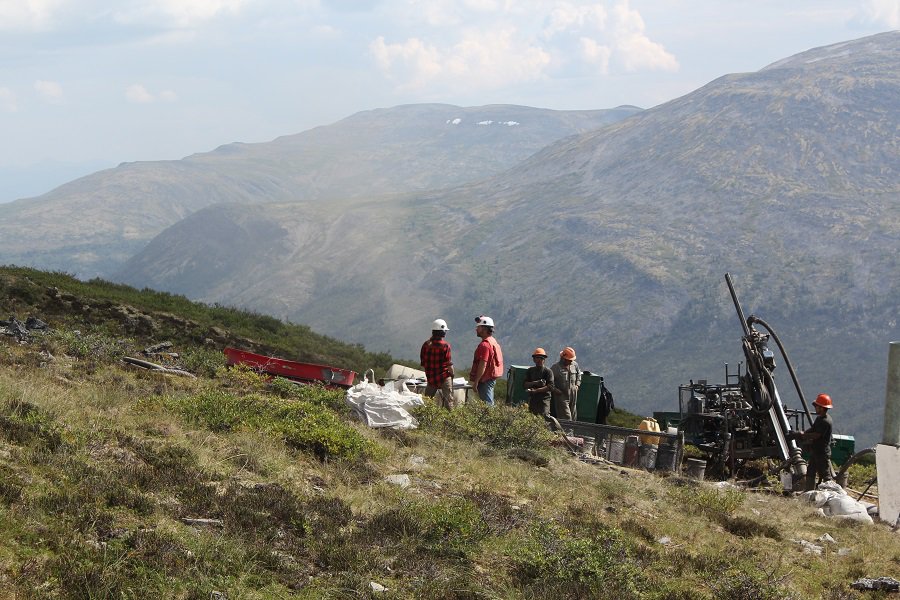 8. Has Metallic Minerals been able to raise money from Asia?
The team has a long track record in the industry, including raising hundreds of millions of dollars which resulted in the discovery and expansion of some top assets, and we have had good participation from Asian investors and institutions over that time. With Metallic Minerals, we have had numerous conversations with some of, for example, Japan's largest mining-related groups who have tremendous interest in quality North American projects. 
Obviously, those relationships develop slowly and over time, but certainly a lot of seeds have been planted and we continue to nurture those relationships. We have also engaged with groups who are tapped into the Asian investment communities both here and abroad, with that yielding strong, supportive buyers of our shares. We haven't had the opportunity over the past few years to travel for face-to-face meetings as much as previously but very much look forward to re-engaging at some of the major mining investment events in Singapore, Hong Kong, mainland China and Japan for example.
9. Metallic Minerals is one of three members of The Metallic Group of Companies. Can you give me a breakdown of the Group and their focus?
The Metallic Group is a collaboration of leading precious and base metals exploration and development companies with a portfolio of large, brownfield assets in established mining districts. We share some internal personnel, as well as office space, as a means of being frugal and efficient. We also share the strategy of acquiring the high-potential, district-scale North American assets opportunistically – during down cycles in the metals markets. Any of the Group's flagship assets would be simply out of reach for a junior to acquire in a hot or even lukewarm market.
The other two companies in the Metallic Group are also ones to watch, Stillwater Critical Minerals (TSX: PGE-V) is focused on platinum group elements, nickel, copper and cobalt in the Stillwater mining district of Montana next door to Sibanye's active and ultra-high-grade Stillwater PGE Mines and Granite Creek Copper (TSX: GCX.V) is focused on its high-grade Carmacks copper-gold-silver s project in the Minto Mining district, just south of and on trend with the Minto mine in the Yukon Territory. 
Stillwater is expecting an update to its October 2021 inaugural resource estimate later this year while Granite Creek is closing in on publishing an updated PEA based on its recently expanded resource estimate. So, it's busy times for the Metallic Group of Companies and we think the timing for some of these key news items might coincide nicely strengthening markets as we look to see the establishment of a clear bottom here over the coming quarter or so.
10. For the investors out there can you tell us about the listings and where to access them TSX-V:MMG & OTCQB:MMNGF?
Metallic Minerals trades in Canada on the Toronto Venture Exchange (TSX.V) as MMG and on the OTCQB in the US under the symbol, MMNGF. Stillwater Critical Minerals trades as TSX.V: PGE and OTCQB: PGEZF. Granite Creek symbols are TSX.V: GCX and OTCQB: GCXXF.
How can people connect with Metallic to follow for more updates?
The best way is through the Metallic Minerals webpage, www.mmgsilver.com where you can find information and presentations on our projects but also additional contact information if you would like to reach out to us. Follow us on social media, as well. Our Twitter handle is @mmgsilver and we can be found on both Facebook and LinkedIn under The Metallic Group of Companies.