After the Biden administration announced its ham-fisted scheme to eliminate $10,000 in student loans for borrowers making less than $125,000 per year, and $20,000 for Pell grant recipients, the Washington Post and the Wall Street Journal editorial boards independently wrote about what a stupid idea it is.
"This is easily the worst domestic decision of his Presidency and makes chumps of Congress and every American who repaid loans or didn't go to college," writes the Journal editorial board.
Democrats said these plans would reduce defaults. They haven't. Federal student debt has ballooned because many borrowers don't make enough to cover interest and principal payments, so their balances expand. Student debt has nearly doubled since 2011 to $1.6 trillion, though the number of borrowers has increased by only 18%.

Now Mr. Biden is cutting undergrad payments to a mere 5% of discretionary income. The government will also cover unpaid monthly interest for borrowers so their balances won't grow even if they aren't paying a penny. This will mask the cost to taxpayers of the Administration's rolling loan write-off. Student-loan debt won't appear to swell even as it does. What a fabulous accounting trick. -WSJ
The Post, meanwhile, said that Biden "Has generally embraced sensible reforms over flashy gimmicks. But his Wednesday student loan announcement did just the opposite," adding that the plan to forgive both the $10K and $20K levels are "ill-conceived and misdirected."
The unemployment rate for people with bachelor's degrees and higher is just 2 percent. It's hard to make the case that college graduates are still facing an unprecedented crisis.

The loan-forgiveness decision is even worse. Widely canceling student loan debt is regressive. It takes money from the broader tax base, mostly made up of workers who did not go to college, to subsidize the education debt of people with valuable degrees.

Mr. Biden's student loan decision will not do enough to help the most vulnerable Americans. It will, however, provide a windfall for those who don't need it — with American taxpayers footing the bill. -WaPo
Ouch!
Pretty rare for the Washington Post editorial board and the Wall Street Journal editorial board to be aligned on a policy issue. If they both think something is a mistake, it's probably pretty bad. pic.twitter.com/2CwLa3pXsT

— Brian Bartlett (@BrianBartlett) August 25, 2022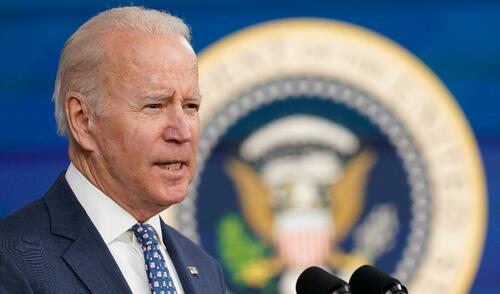 The plan is so bad that former President Obama's chief economic adviser blasted it as "reckless."
Pouring roughly half trillion dollars of gasoline on the inflationary fire that is already burning is reckless. Doing it while going well beyond one campaign promise ($10K of student loan relief) and breaking another (all proposals paid for) is even worse.

— Jason Furman (@jasonfurman) August 24, 2022
Meanwhile, Penn Wharton sees Biden's student loan handout costing more than one trillion dollars depending on how the program goes.
According to Penn Wharton, Biden's student loan handout will cost more than one trillion dollars ($1,000,000,000,000) pic.twitter.com/tALjte28fb

— Mike Berg (@MikeKBerg) August 26, 2022
House Speaker Nancy Pelosi even said the plan was a constitutional no-go in April.
Nancy Pelosi pointed out in April that Joe Biden doesn't have the constitutional authority to wipe out student loans. This isn't even a tough call. Courts will all strike it down. Total political ploy. pic.twitter.com/PvZICd0QL1

— Clay Travis (@ClayTravis) August 24, 2022
The last word goes to Tucker Carlson.
Tucker Carlson breaks down why Biden forgiving student loan debt is a bad idea, and who benefits. pic.twitter.com/I1w7LT5vv6

— The Post Millennial (@TPostMillennial) August 25, 2022